MOBILE MAP PLUS
Custom CAD/Laser-produced Graphics

Continuously Supervised "in Use" for Both Communication

&

Jamming

Optional Programmable Security Code

Independent Radio Transmitter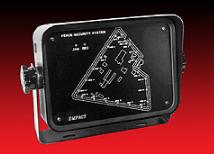 Mobile Map Plus provides reliable, accurate alarm reporting to personnel responding from vehicles roving a facility. Its major use is alarm annunciation of perimeter fence alarm systems. Mobile Map Plus provides responding personnel rapid indication and exact location of a perimeteralarm occurrence. (See Figure 1-1.)
Effective perimeter alarm response by vehicles equipped with Mobile Map Plus units has contributed to reducing or eliminating the need for manned towers. Personnel previously required to occupy towers can be effectively assigned to other important tasks with considerable yearly savings.

ROVING ALARM ANNUNCIATION
(RANS)
The Roving Alarm Notification System (RANS) provides rapid alarm information to responding, roving personnel regardless of their location. This gives on-station personnel the ability to monitor a larger area, thus reducing the number of personnel required.
RANS receives alarm signals from a contact closure or RS-232 serial data input from another alarm system or device. The alarm causes activation of a voice message that provides precise alarm information in clearly spoken English (or other) language.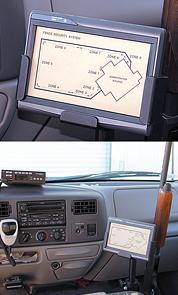 GRAPHIC DISPLAY SYSTEMS
Priax manufactures custom graphic display annunciators suitable for wall, console or rack mounting. These systems normally consist of a custom designed graphic faceplate and enclosure. The graphic representation is photographically produced on the reverse (back) side of the polycarbonate sheet. The graphic presentation can be provided in one or more of 11 distinct colors. All faceplate and substrate graphics are accurately produced from a single computer-aided design (CAD) drawing. Each lamp is replaceable from the rear of the panel. Graphic Display Annunciator Systems are available as:
• Standard Series • Economy Series • Custom •


RADIO AND WIRELESS
COMMUNICATION
Priax Corporation has been deeply involved with radio and wireless communications dating back to the 1980s. During this time, the world of radio communications has evolved into the broader technology, wireless communications and many changes have occurred. The radio spectrum has been rearranged by cellular phones, computer communications, and all the products seeking to have a wireless connection. The large number of new radio technologies and all the new regulations have caused a lot of confusion. Improperly designed systems can be affected by other similar closely located systems as well as cause interference to those other systems. Priax has many years' experience with point-to-point and point-to-multipoint radio systems, both using FCC licensed radio frequencies and the unlicensed radio bands shared with multiple customers. Priax has participated in the design of wireless systems using modulation technologies such as: spread spectrum, Zigbee, WiMax, C-OFDM, SOQPSK, and wireless mesh as well as wireless data encryption technologies. Priax has designed systems requiring both line-of-sight (LOS) and near line-of-sight (NLOS) connections, including directional transmission of high speed data over long distances. Our commitment is to stay current on the latest wireless technologies so we can provide our clients accurate technical support.
Priax personnel can assist you with radio spectrum searching to determine the best radio spectrum and frequency, including formal FCC licensing. Priax can also provide on-site radio frequency testing services to 26 GHz when necessary. Contact us with the requirements for your project.